You can now change your existing bank details once you've updated to the latest version of the Dream11 app.
Once your app is updated, please follow the steps mentioned below.
1. Visit your 'My Balance' section.
2. Click on 'Withdraw' as below. 
3. You will be able to see your current bank account. Click on 'Change Account'.
4. Click on 'Confirm' to go ahead with the changes and update your new bank details.
In case you have a withdrawal in process, you will be unable to change your bank account till the process is complete and you will receive the below message.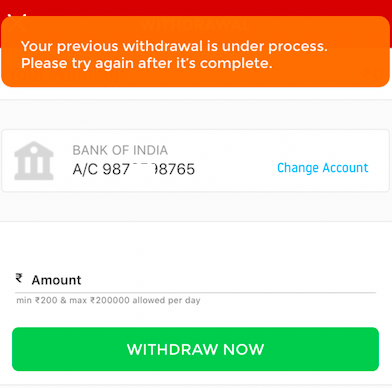 Please note the following points:
You will need a minimum Winning Balance of Rs.200 to verify your bank details.
You will be able to change your bank details ONLY 3 times in total.
Accounts opened with digital wallet banks such as PayTM or Airtel cannot be verified for withdrawals.
If your withdrawal is in process, request you to raise the bank account change request AFTER the withdrawal is credited into your bank account.
Once we receive your verification request, it will be processed within 3-5 working days from the date of submission and you will receive a notification for the same.
You cannot verify a bank account belonging to Assam, Odisha, Telangana, Nagaland or Sikkim.